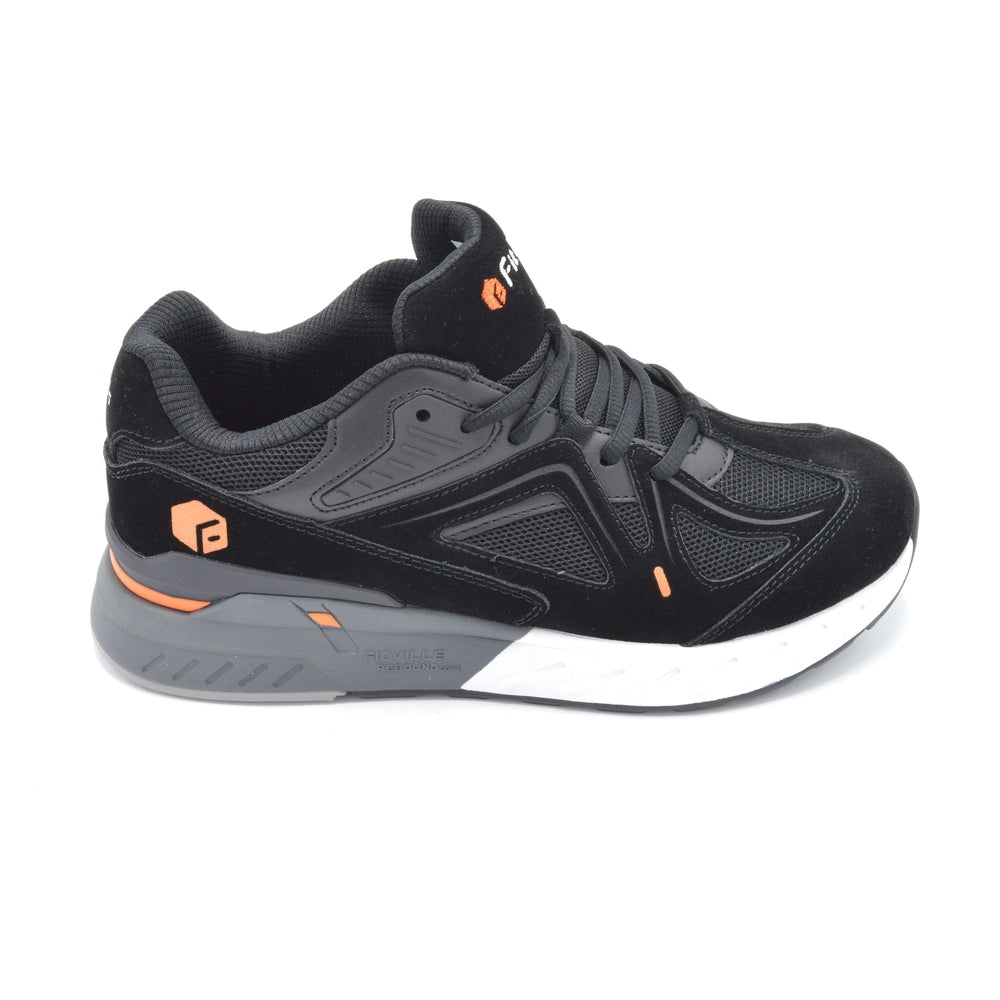 FitVille Rebound - Mens Extra Wide Fit Trainer - 6E Fitting - Black
by
FitVille
Extra Wide Fitting Trainer *Widest Fitting*
Description

Delivery

Returns

What is a 6E Width Fitting?
Introducing Rebound by FitVille! The Rebound is a men's stylish, extra wide fitting trainer in a 6E fitting. The trainer fits big, but we have tweaked the sizes so they reflect the correct size. Please just order your normal shoe size.
The Rebound is perfect for men with very wide feet or foot conditions such gout, hammertoes, bunions and oedmea.
The toe area is very wide and also offers extra depth to allow free movement of the toes, which is known to relieve foot pain related to plantar fasciitis, hammer toe, heel pain, flat feet, neuropathy, knee pain, and other kinds of foot issues.
FitVille's  EVA arch support insoles offer fantastic cushioning and are ergonomically designed to help you achieve a better body alignment. 
The trainer also has an anti-roll heel ring to keep your foot straight when running and to reducing pronation of the foot.
The outsole offers excellent shock absorption and is designed to reduce foot fatigue. This is achieved by combining a flexible, elastic front sole and a solid back sole to ensure a smooth movement of weight transition when walking or jogging.
We have been very impressed with the technical spec of these trainers, which combine a stylish design, with first class comfort and support features.
They also extremely lightweight and look great! A great running trainer or for any active sports.
You can read more about the features of the FitVille Rebound in our in depth article here.
All orders are shipped via Royal Mail, on a 48hr Tracked service to give you complete peace of mind. You will receive a copy of your tracking number via email when your order has been dispatched, and you can track your package on the Royal Mail website if needed.
UK Postage (2-3 day service)
| | |
| --- | --- |
| 1 pair | £3.49 |
| 2 pairs | £5.99 |
| 3 pairs | £7.99 |
European Postage (3-4 day service)
| | |
| --- | --- |
| 1 pair | £7.49 |
| 2 pairs | £10.49 |
| 3 pairs | £14.49 |
Rest of the World (5-7 day service)
| | |
| --- | --- |
| 1 pair | £13.49 |
| 2 pairs | £19.99 |
| 3 pairs | £28.99 |
If your order is urgent and you require a next day service then please call or email us to upgrade your delivery.
We want you, and your feet to be delighted with your purchase!
That is why we offer every customer hassle free returns.
You can return any item within 30 days of purchase as long as it is unworn and in its original packaging.
If you need to send an item back to us, please include the returns form sent with your order. If you have misplaced the returns form, don't worry, we can email you another copy.
Once our returns department has received your parcel, we will refund the payment card used for the original purchase.
If you require a different size, we recommend ordering the new size online and returning the incorrect size for a refund.
If the shoe you purchased was not suitable then why not give us a call. We have over 30 years experience helping customers get the right footwear and we would be happy to advise you on another style, fitting or size that would be more suitable.
What is a 6E Width Fitting?
A 6E fitting is an extra wide fitting, and one of our widest. It offers lots of width and extra depth in the toe area. A 6E fitting is recommended for those with serious foot conditions such as large bunions, gout and swollen feet, as well as those with extra wide feet.
These width fittings are not available on the high street, even at well known wide fitting shops.
Our Width Fittings Explained:
If you need an adjustable fit to accommodate swelling which changes over the day then we would recommend that you look for a V fitting such as a 6V fitting, which means the width can be adjusted, so you get the perfect fit all day long.
Not sure what width fitting you need?
Then click here to read our simple guide on how to measure the width of your feet.
We are always happy to offer advice and guidance and have lots of experience helping customers find the perfect fit and style. So feel free to get in touch if we can help.